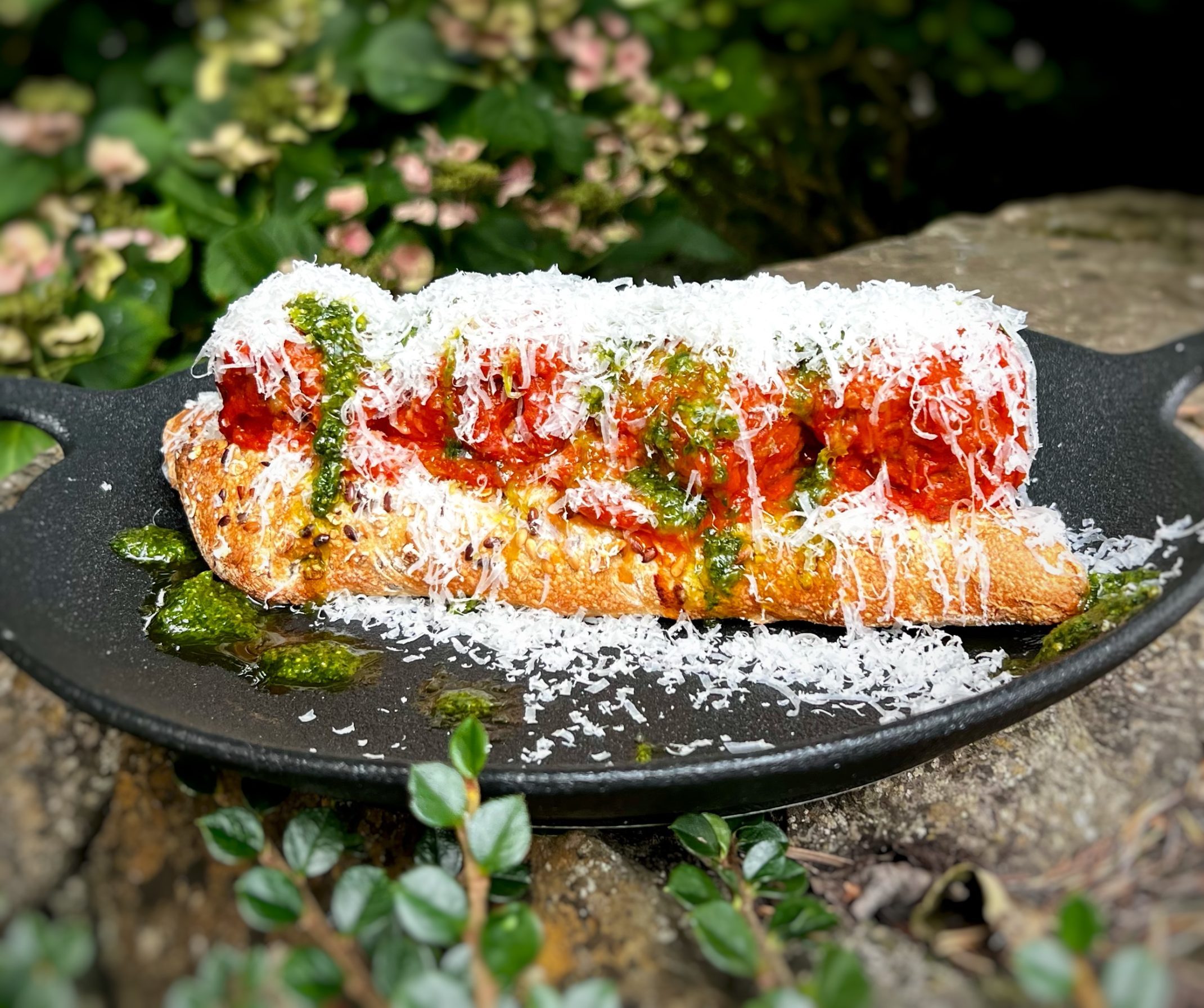 This month, we're excited to share the Japanese Gardens Cafe's delicious recipe of the month: the Meatball Sub. This savoury delight is a perfect blend of juicy meatballs, zesty flavours, and fragrant herbs, all nestled in a warm baguette and topped with a rich basil pesto. Let's dive into the details of this scrumptious recipe that's sure to become a family favourite.
Ingredients:
For the Meatballs:
600g beef mince
45g fresh breadcrumbs
½ lemon, zested and juiced
1 egg, beaten
6 garlic cloves, finely chopped
2 tsp fennel seeds, crushed
1 rosemary sprig or 4 sage leaves, finely chopped
4 tbsp olive oil
For the Tomato Sauce:
400g can passata or chopped tomatoes
Salt and pepper to taste
A pinch of sugar
For Assembly:
1 large baguette
40g parmesan, grated
Basil pesto (see below)
Basil Pesto:
50g pine nuts
80g basil
50g parmesan or vegetarian alternative
150ml olive oil
2 garlic cloves
Instructions:
Basil Pesto:
Heat a small frying pan over low heat. Toast the pine nuts until they turn golden, shaking the pan occasionally to ensure even toasting.
Place the toasted pine nuts, fresh basil, parmesan, olive oil, and garlic cloves into a food processor. Blend until you achieve a smooth, aromatic pesto. Season with salt and pepper to taste. Set aside.
Meatballs:
In a large mixing bowl, combine the beef mince, fresh breadcrumbs, lemon zest, beaten egg, half of the chopped garlic, crushed fennel seeds, chopped herbs, and a generous amount of freshly ground black pepper. Season with half a teaspoon of salt.
Thoroughly knead the mixture until all the ingredients are well combined. Shape the mixture into 12 evenly sized meatballs, each weighing around 60g.
Heat half of the olive oil in a frying pan over medium-high heat. Add the meatballs and cook for 5-10 minutes, turning regularly until they develop a beautiful, golden-brown crust.
Meanwhile, in a separate saucepan, heat the remaining olive oil over medium heat. Add the remaining chopped garlic and sauté for 2 minutes until it becomes fragrant.
Add the passata or chopped tomatoes to the saucepan. Season with salt, pepper, and a pinch of sugar. Cook for approximately 10 minutes, allowing the sauce to thicken.
Transfer the browned meatballs into the tomato sauce and gently simmer for an additional 3-5 minutes, basting the meatballs in the flavourful sauce. Remove from heat and let them rest for 5 minutes.
Assembly:
To serve, slice the baguette lengthwise, making sure not to cut all the way through. Open it up, creating a pocket for the meatballs.
Carefully place the meatballs into the baguette, allowing the sauce to generously coat them.
Sprinkle grated parmesan over the meatballs.
Drizzle a generous amount of the basil pesto over the top for an extra burst of flavour.
Finally, press the baguette shut, and cut it into four equally delightful pieces.
HAVE A QUESTION?
Drop a Line
Address
Irish National Stud & Gardens,
Brallistown Little, Tully, Co. Kildare,
R51 KX25, Ireland
Keep up to date on our news and events
Contact Details
Tourism
Stud