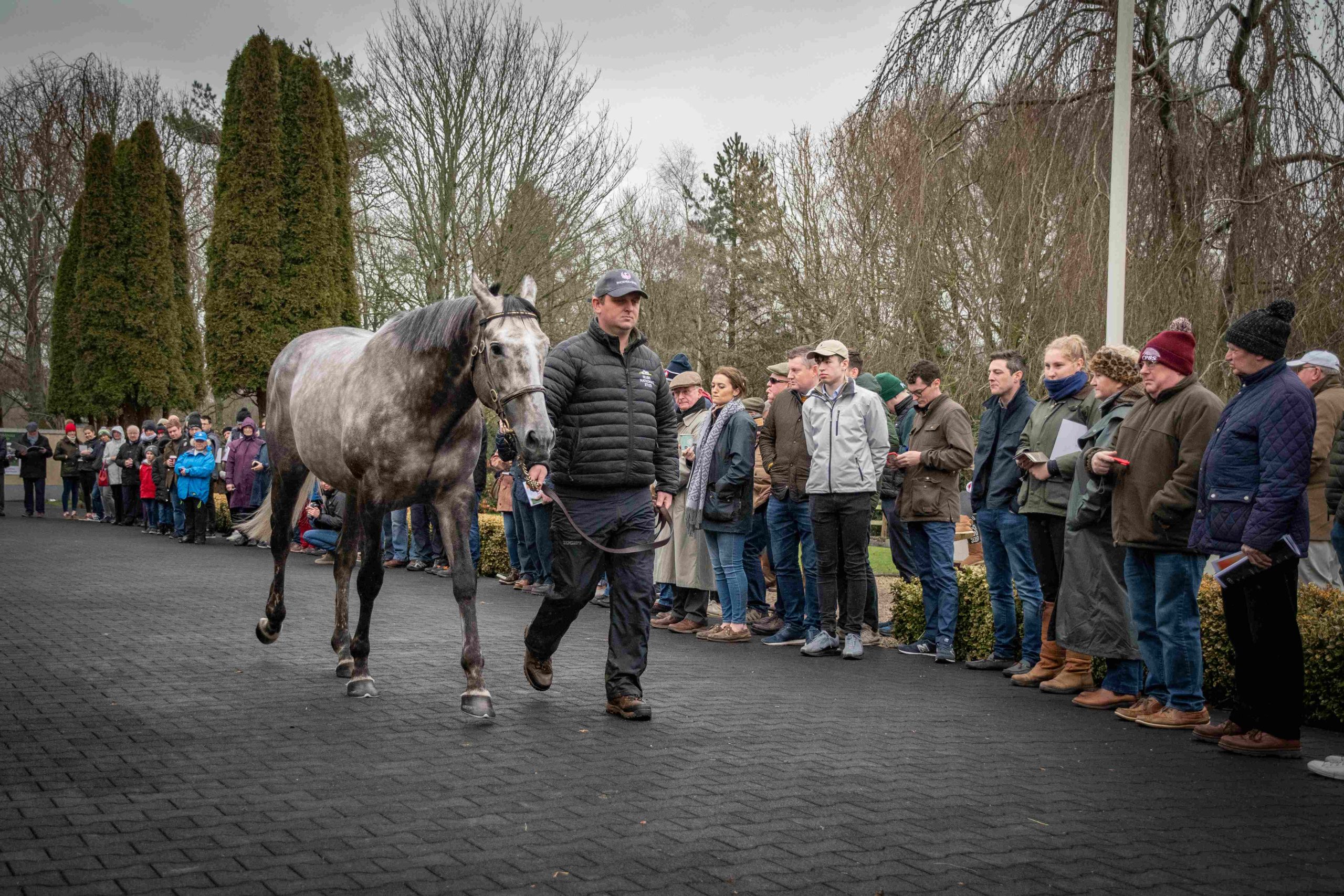 Irish 2,000 Guineas winner Phoenix Of Spain is already impressing breeders with his first foals. Lope De Vega's best son at stud covered 148 mares in his first season at stud and his foals have been gaining huge plaudits from breeders even at this early stage.
Phoenix himself, a precocious leading juvenile is an extremely impressive horse with a fantastic walk which he seems to be passing to his progeny. None are more aware of this than Ann Plummer & Tony Wechsler who purchased Phoenix Of Spain as a yearling before racing him to classic glory. They specifically purchased Gr.3 & Royal Ascot placed filly Jellicle Ball for €510,000 at Arqana in 2019 to breed to Phoenix Of Spain. Ann Plummer told us she was delighted with her very special filly 'We are thrilled with her. She has her sire's fabulous stride & so much quality. We can't wait to see her follow in his footsteps
Tom Ryan of SF Bloodstock who knows the Lope De Vega sire line all too well told us he is also delighted with 2 fillies out Listed winning sprinter Northern Eclipse & Gr.3 placed Goodthingstaketime. 'As they say, first-season stallions only have good and great foals. I'm hearing the Phoenix foals are great. He's very excited at his current stud fee. A brilliant classic winner for €12,500 in hindsight he will look like a gift, it's not that long ago we were trading LDV seasons for €12,500 we're at 10X that today'
Irelands' top breeders have really been echoing these sentiments, Dermot Dwan on his colt out of Freedom March a sister to Gr.3 placed Liberally herself a sister to Champion and 1000 Guineas Winner Speciosa. 'He's an absolute belter! She had a very good Lope De Vega foal previously but this Phoenix Of Spain colt is exceptional'
The same reaction from Bobby Donworth of Roundhill Stud with his foal out of Listed Redcar 2YO Trophy winner Ventura Mist. 'Our colt is very good-looking, don't know which mare we will send as yet but based on this one we will be visiting Phoenix Of Spain this season
Breeders are keen to return to the sire after seeing his early stock with John Little among these happy breeders.  'Our colt is very good looking, don't know which mare we will send as yet but based on this one we will be visiting Phoenix Of Spain this season' Talking about his filly out of Navette, a half-sister to Gr.1 placed Dubai Fountain from the family of Gr.1 Winner Dubai Destination  
Olive O'Connor was very impressed with a filly she saw out of Enliven. 'Superb filly, really athletic. Couldn't be happier with her' This filly is from the family of Gr.1 horses Agathe, Artiste Royale & Aquarelliste. Bred by Steph Von Schilcher.
Phoenix Of Spain is midway through covering his second book of mares & is set to cover a book full of high quality.  Mares already booked to him include Gr.1 winner Furia Cruzada, Lethal Quality the dam of Gr.1 winner Glen Force, Olga Prekasa dam of Gr.1 winner Zelzal, Multiple black type producer Nebraas & Veronica Falls the dam of Black Type 2yo Chicas Amigas.
All involved with Phoenix Of Spain are delighted with his first foals and importantly the response they have received. We look forward to getting out and seeing all of them over the coming months before eagerly awaiting the opportunity to see them in the sales ring at the end of the year.
HAVE A QUESTION?
Drop a Line
Address
Irish National Stud & Gardens,
Brallistown Little, Tully, Co. Kildare,
R51 KX25, Ireland
Keep up to date on our news and events
Contact Details
Tourism
Stud