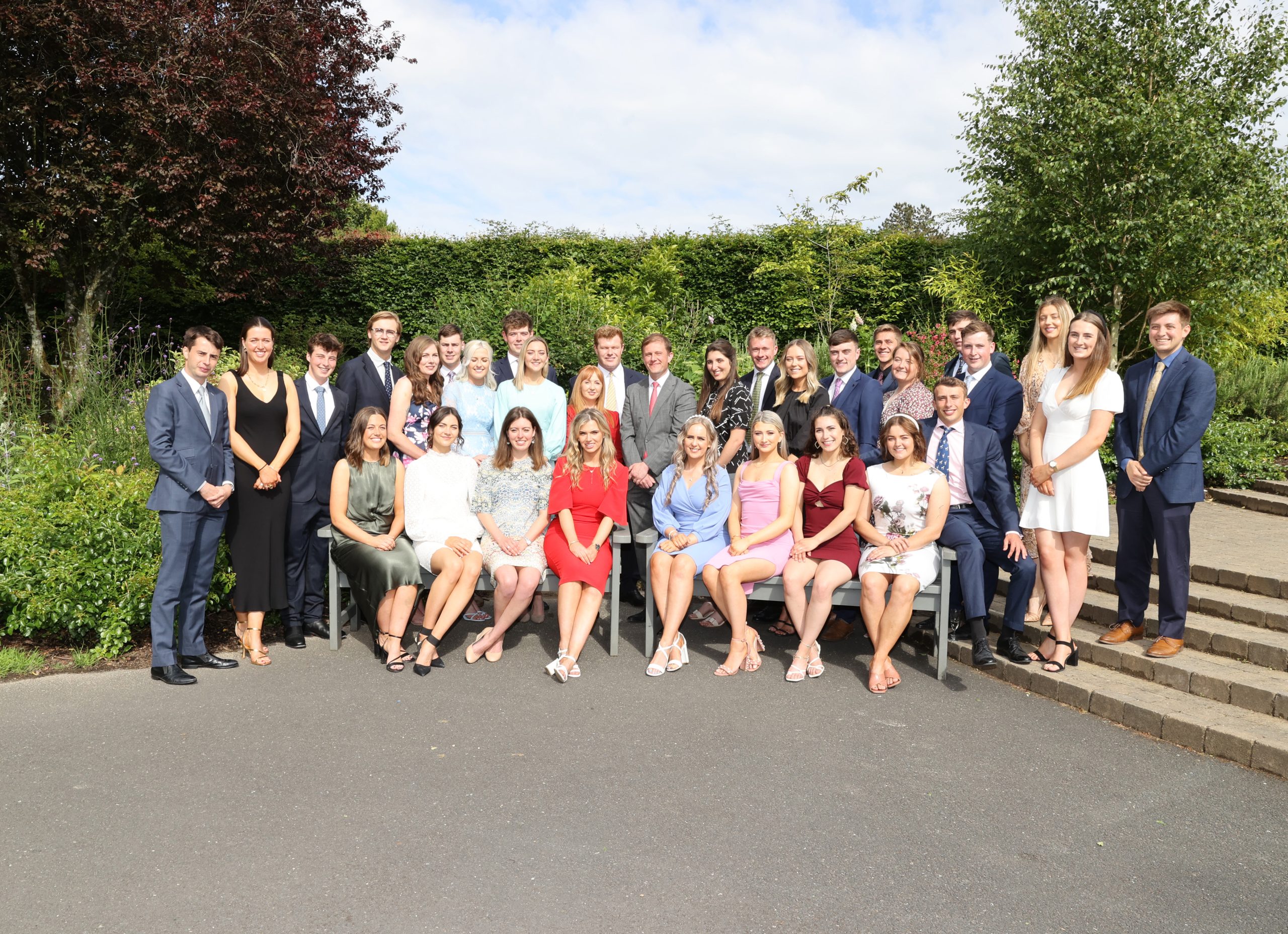 The weather didn't dampen the atmosphere at Tully as parents and guests arrived to the graduation ceremony of the class of 2022.
Since 1971, the Irish National Stud Thoroughbred Breeding Management Course has hosted students from all over the world with this year being no exception as 30 students from seven countries were awarded their certificates at the County Kildare venue.
Before the formalities began, guests were treated to a stallion parade before enjoying a tour of the Irish Racehorse Experience.
The ceremony began with an address from I.N.S Chairman Matt Dempsey followed by an inspiring and encouraging speech form CEO Cathal Beale.
Students Anna Cahill and Alex Sausville representing the class spoke of the lasting memories and friendships that were made during the past six months at the stud. They thanked staff, lecturers, guest speakers who generously shared their knowledge with the group and a big mention went to the various stud farms, training facilities and racecourses that hosted the students on their industry site visits.
Each year Gold and Silver Medals are awarded to the top two achieving students and this year the prestigious Gold Medal was presented to Theresa O'Donoghue, Co. Cork who demonstrated an outstanding performance in all aspects of the course with the Silver Medal being awarded to Alexander Sausville, USA.
The INS 'Jonathan Fitzpatrick Internship' was awarded to Freddie Morley from Newmarket, England, who will commence his internship with the INS in July.
The CEO award for the highest score in the Equine Business exam went to Mathilde Baurens, France. and the Continuous Assessment award was presented to Hayley Ashcroft, UK.
Annie O'Rourke, Newmarket was the recipient of the Irish Field "Blue Hen" Award. Annie was presented with a cheque for €250 and a trophy by Leo Powell for her winning article on Blue Hen broodmares which will be published in The Irish Field in the coming weeks.
Other awards were presented to Rachel Harvey, UK for Best Portfolio of Assignments, Annie O'Rourke winner of the Dr. Sieglinde McGee Award, Freddie Morley, Veterinary Award.
Two new awards were presented this year, The Goffs Internship was awarded to Jack Blake, Laois, while the ITBA Next Generation Award went to Anna Cahill, Kildare
Class of 2022
Hayley Ashcroft (UK), Mathilde Baurens (France), Jack Blake (Ireland), Eliza Bradbeer (UK), Andrew Buick (Denmark), Anna Cahill (Ireland), Sean Cooper (Ireland), Ciara Corrigan (Ireland), Lucy Cullen (Ireland) Paul Curran (Ireland), Jessica Daly (UK), Cian Gahan (Ireland), Thomas Gerrard (UI), Luke Hammond (USA), Rachel Harvey ( UK), Fernando Laffon Lomba (France), Eva Maxwell ( Irish), Freddie Morley (UK), Theresa O'Donoghue (Ireland), Annie O'Rourke (UK), Thomas Quinn (Australia), Ann Reddy (Ireland), Edmond Ryan (Ireland), Alexander Sausville (USA), Megan Sheedy (Ireland), Roisin Whelan (Ireland), Gemma Blumenshine (USA) recipient of the Gerry Dilger Equine Scholarship, Tess O'Connor (Australia) recipient of the TBA scholarship, Jessica Bailey (Australia) recipient of the HTBA Scholarship, George Chittick (New Zealand) recipient of the NZTBA Scholarship
HAVE A QUESTION?
Drop a Line
Address
Irish National Stud & Gardens,
Brallistown Little, Tully, Co. Kildare,
R51 KX25, Ireland
Keep up to date on our news and events
Contact Details
Tourism
Stud