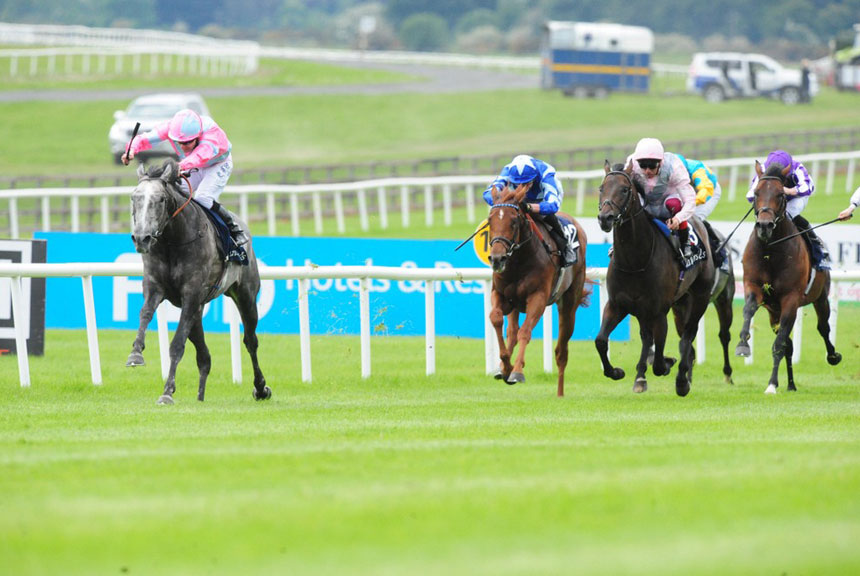 Cathal Beale tells Aisling Crowe more about Phoenix Of Spain's promising first crop
As the Flat season bursts forth in April, with the promise of Classics, Royal Ascot, Goodwood and Irish Champions Weekend, the excitement of witnessing the birth of new stars and the return of old favourites, one particular group of people is feeling a heady mix of anticipation and anxiety – stallion masters with first-season sires.
"At this moment in time, it's always nervous for us –  we're constantly refreshing entries on the two-year-old races," says Cathal Beale, CEO of the Irish National Stud, whose Phoenix Of Spain has 97 juveniles preparing to take their first steps on the track.
When the team at the Irish National Stud first conceived Phoenix Of Spain as a potential addition to the stallion roster, he was still only a two-year-old. His raw size and scope impressed them enormously, with his form and ability belying his stature. Although it is only April, that would appear to be replicated in his offspring.
Beale recalls: "When we looked at him at the end of his two-year-old season, we thought he'd make a fine three-year-old, just by looking at him, but he had already run five times at two, and been a Group winner and Group 1-placed."
The grey son of Lope De Vega made his debut in early July and had won his maiden by the time the calendar page was turned over to the next month. August was when Phoenix Of Spain demonstrated his promise with success in the Group 3 Acomb Stakes, and he was by far the best of the rest behind European champion two-year-old Too Darn Hot in the Champagne Stakes at Doncaster.
On his first foray into Group 1 company, he was a narrow runner-up to Magna Grecia in the Vertem Futurity, a performance that signalled a bright future at three. Those signals proved to be spot on when he came out and won the Irish 2,000 Guineas on his seasonal reappearance. It was a high-class Guineas; those in behind at the Curragh included Too Darn Hot, Magna Grecia and Emaraaty Ana.
Exciting early reports
So Phoenix Of Spain wasn't slow to come to hand, but his offspring are showing an even quicker aptitude.
"We never expected he'd have the winner of the Brocklesby but they look like being out in May and June," says Beale.
"His offspring are more precocious than they appeared to be physically, they're coming to hand, training well and are easy to manage. It's all very positive but at this time of year all the geese are swans, so we'll have to wait and see. But you'd have to be excited by what everyone is telling us."
'Everyone' includes a collection of Britain and Ireland's leading trainers, with Joseph O'Brien, Jessica Harrington, Ger Lyons, Roger Varian, Richard Hannon and Clive Cox among those sending positive reports back to Tully on the early education of his offspring.
One trainer in particular is very well placed to provide feedback on their Phoenix Of Spain juveniles and that is Charlie Hills, who guided the stallion's racing career. His observations sound interesting.
"Chatting to Charlie, he has three very nice ones and is delighted with them," says Beale. "There's one out of Bratislava, called The Ice Phoenix (€65,000 from the Irish National Stud at Orby), and he is reminding him so much of Phoenix Of Spain in every possible way – if he's half as good as him, we'll be very happy with that."
Phoenix rising
The Ice Phoenix certainly has the pedigree to be a beacon for his sire; he is a half-brother to multiple Listed-winning sprinter Katla and to Rapid Reaction, a Listed-placed sprinter. Bratislava herself is a Dr Fong half-sister to none other than Wootton Bassett.
Harrington has been entrusted with the care of a filly who is of particular importance, for Phoenix Of Spain, his studmate and paternal half-brother Lucky Vega and that stallion's owners Yulong Investments, as well as the Irish National Stud.
"Jessie has a very exciting filly for Yulong, the Phoenix Of Spain sister to Lucky Vega," says Beale, "and she seems to be showing all the right signs. The Yulong team is very happy with her."
Lucky Melody, a three-parts sister to the Phoenix Stakes winner, whose first foals have impressed this spring, is the most expensive from the first crop of Phoenix Of Spain. She made €195,000 to Yulong and Michael Donohoe at the Goffs November Foal Sale, from Baroda Stud.
Entries for the Weatherbys Super Sprint are also revealing of the impressions Phoenix Of Spain juveniles are giving their trainers. Seven members of his first crop are entered in the five-furlong contest and for a horse who never tackled a trip short of seven furlongs, it's a fascinating turn of events.
Beale has news of a couple of fillies entered in the contest who have been impressing their trainers as they develop.
He says: "Harry Eustace has Phoenix Duchess and he says that, physically and mentally, she's very mature. He hopes to run her in the first half of the season.
"Brian Meehan has a very nice filly bred by Lynn Lodge out of Beach Wedding, named Unforgettable Fire. She was a very nice filly at the Doncaster sale last year and seems to be moving along well."
The Arqana Breeze-Up Sale in May will also provide Phoenix Of Spain's offspring with the opportunity to impress, as both Katie Walsh and Johnny Hassett send his youngsters to Deauville.
Walsh consigns a colt she bought for €50,000 at Goffs Orby bred by the Irish National Stud out of Aimhirgin Lass, a Pivotal full-sister to Listed winner Seeharn and half to the Group 3 winner Yellow Rosebud, while Hassett's filly is out of a half-sister to the Grade 1 Shoemaker Mile winner Hunt.
Proven crosses
One important characteristic that many of the youngsters Beale mentions have in common is the presence of Danzig in the broodmare sire line. Phoenix Duchess is out of a Dandy Man mare, Lucky Melody's dam is by Cape Cross, and the Bloodstock Connection filly for Deauville has Born To Sea as her broodmare sire.
That is a deliberate decision about the type of mares to send to Phoenix Of Spain on pedigree, as an attempt to replicate in part what has proven so successful with his sire Lope De Vega.
"It was one of the great attractions for me, yes there's Danzig there but it's four generations back, so I think we can double it," explains Beale. "It's something we've tried to do as that line has crossed so well with Lope De Vega.
"We've bred a lot of mares to him, putting that Danzig blood back in. An awful lot of the breeders who have used him have done that too."
With a strong syndicate behind him, ensuring Phoenix Of Spain has support beyond that first year, and breeders making informed choices based on what has been proven to work, everything that could possibly be done to lay the strongest foundations for success has been.
For the team behind Phoenix Of Spain, success would be in the region of 15-20 first-crop winners, with a sprinkling of stakes horses to add lustre, and substance in three-year-old winners. It's a sensible, reasonable and realistic target that looks beyond the instant gratification of two-year-olds.
"It's all shadow boxing until you get to the winning post," says Beale. "All we can judge it on is what everyone is telling us and, from that, I think he's going to significantly outrun his first-season sire title odds (best price of 100-1) and deliver plenty of nice horses."
HAVE A QUESTION?
Drop a Line
Address
Irish National Stud & Gardens,
Brallistown Little, Tully, Co. Kildare,
R51 KX25, Ireland
Keep up to date on our news and events
Contact Details
Tourism
Stud