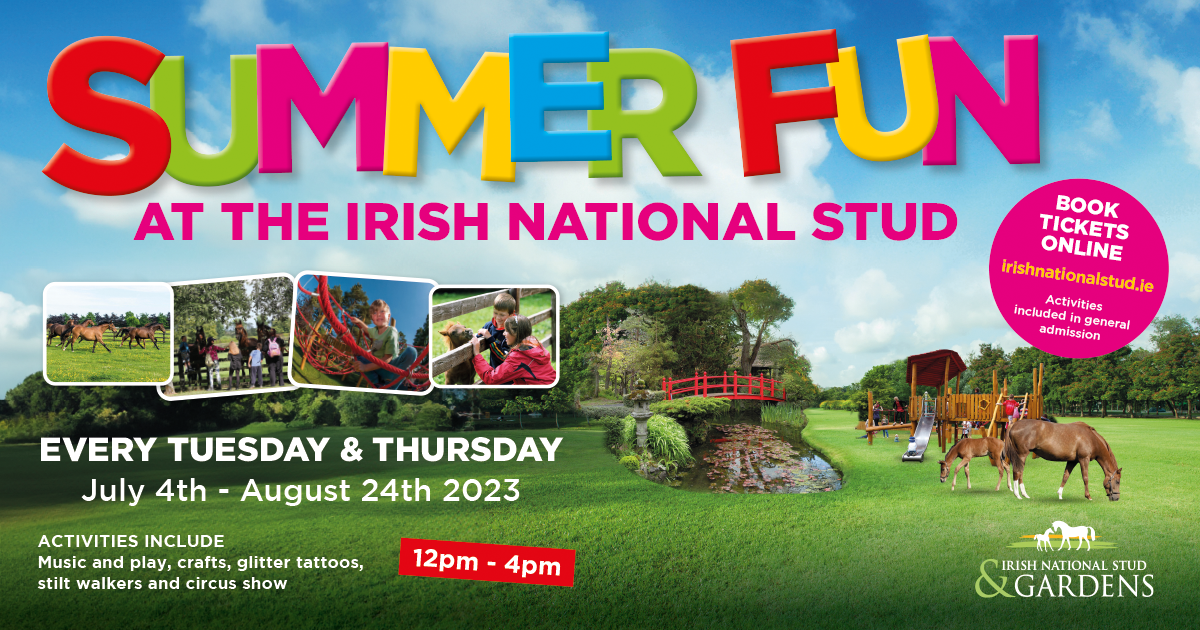 Three great reasons to visit the Irish National Stud this week!
1 – Summer Fun, Tuesday 4th July & Thursday 6th July
The Irish National Stud is thrilled to announce our much-anticipated Summer Fun series for children and families. Running every Tuesday and Thursday from July 4th to August 24th – 12.00pm – 4.00pm Each Day, this exciting lineup of activities promises to make your summer truly memorable. From music and crafts to thrilling circus shows and enchanting storytelling, there's something for everyone to enjoy. Best of all, all these fantastic events are included in the general admission ticket, granting you access to the stud, gardens, and an engaging public tour.
So, mark your calendars and join us for a summer filled with laughter, creativity, and wonder at the Irish National Stud. Book your tickets online today to take advantage of exclusive discounts and secure your place at this unmissable event. Get ready for a summer of fun that will create memories to last a lifetime!
2 – The Secret Garden, Friday 7th July
On Friday 7th of July, the Irish National Stud & Gardens will host a magical production of 'The Secret Garden' by Frances Hodgson Burnett. Join young Mary Lennox on a journey of discovery as she is sent to her uncle's house in the countryside, where she encounters mysteries and secrets at every turn. As Mary makes new friends and meets magical creatures, she embarks on a quest to find the location of her uncle's secret garden and uncover the key. This enchanting story, loved by both children and adults, will be situated in the heart of the Irish National Stud & Gardens, making it one of the highlights of the summer. The gates open at 6.00 pm, and the performance starts at 7.00 pm. Remember to bring your own rugs or low-back seating.
To find out more and to purchase tickets click below:
https://www.seetickets.com/event/the-secret-garden-at-irish-national-stud/irish-national-stud/2589220
3 – Irish National Stud & Gardens Plant Fair, Saturday 8th & Sunday 9th July
We are delighted to announce that the highly anticipated Irish National Stud & Gardens Plant Fair will be returning once again on Saturday, July 8th and Sunday, July 9th 2023. We are proud to host the event in association with the Irish Specialist Nursery Association (ISNA).
The plant fair will be a two-day extravaganza that promises to captivate all gardening enthusiasts, nature lovers, and anyone seeking to immerse themselves in the wonders of horticulture. Set against the stunning backdrop of the Irish National Stud & Gardens, this event offers a unique opportunity to explore the beauty of nature while indulging in a range of exciting activities and talks. There will also be a large variety of plants available for purchase.
On Saturday, July 8th, the day will kick off with a fascinating talk by Jimi Blake at 12pm. Jimi, the author of the book "A Beautiful Obsession" and founder of Hunting Brook Gardens in County Wicklow, Ireland, will share his expertise on creating a colourful tapestry in your own garden. Following Jimi's talk, at 2pm, Rory Newell from Forest Moon Plants will take the stage to demonstrate plant propagation techniques.
On Sunday, July 9th, we have two more captivating talks in store for you. At 12pm, Ian Young, a distinguished expert in the art of bonsai, will present a bonsai demonstration and talk.  Closing the event at 2pm on Sunday, Leonie Cornelius, founder of Wild Eden, will take the stage to deliver a talk titled "Creating Joyful Gardens." Leonie is renowned for her innovative and eco-friendly garden designs, and she will share her insights on how to transform your outdoor space into a joyful sanctuary.
Whether you're a seasoned gardener or simply have a passion for nature, the Irish National Stud & Gardens Plant Fair 2023 is an event not to be missed.
HAVE A QUESTION?
Drop a Line
Address
Irish National Stud & Gardens,
Brallistown Little, Tully, Co. Kildare,
R51 KX25, Ireland
Keep up to date on our news and events
Contact Details
Tourism
Stud