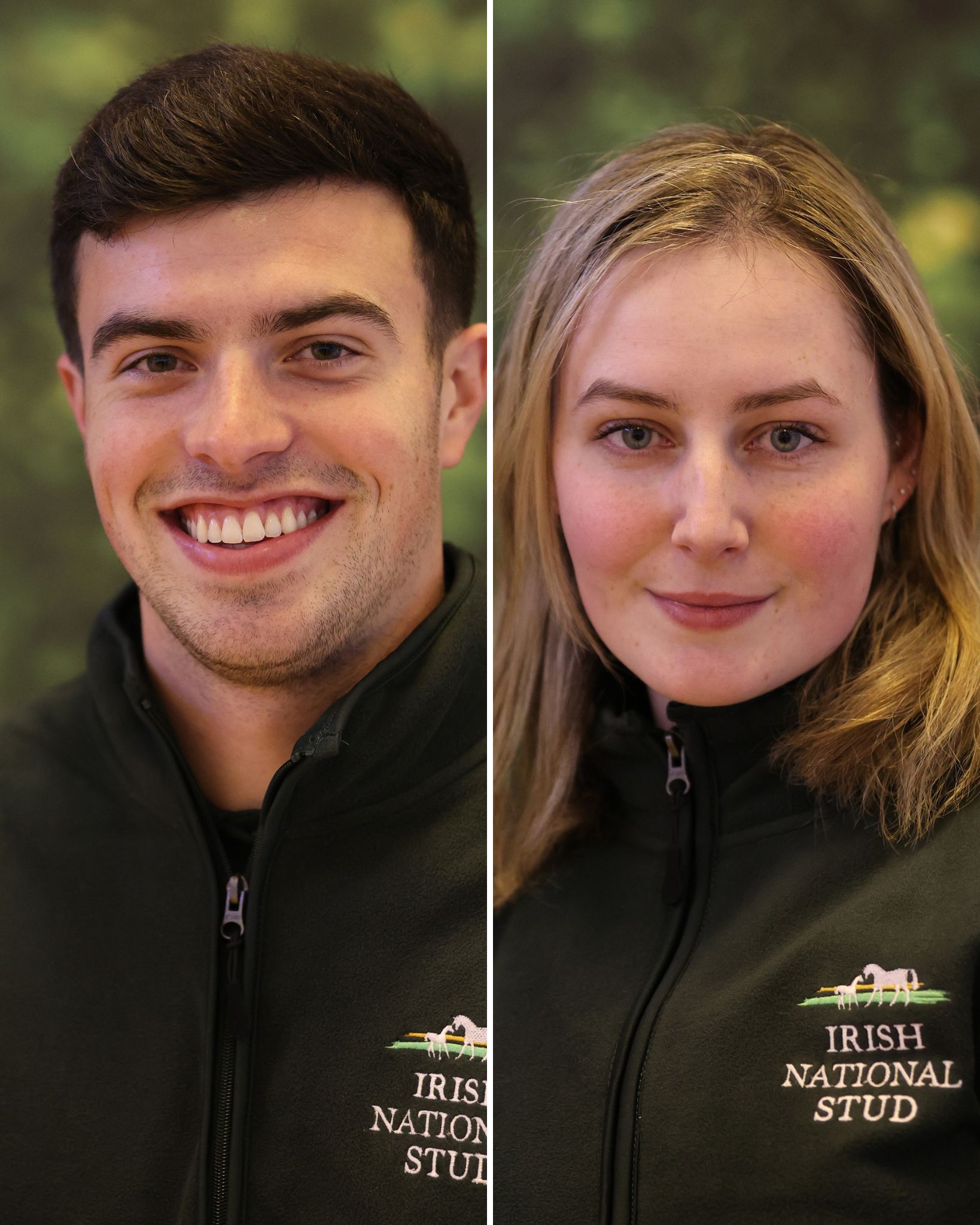 February 13th-19th
Brian
This week Aoife and I were working together in Kildare yard and Strawhall yard. While in Kildare Yard we were hands on with the newborn foals. We only had nine of them in the yard this week but they still kept us busy.
It was important to keep a close eye on their development during their first weeks in order to catch any issues that may need attention. In Strawhall we were working with pregnant mares that still had a bit of time before their foaling due dates. We turn them out into their paddocks and fields every day and continuously check their bags for any signs of an imminent foaling. We were lucky enough to work with the legendary mare, Quevega, during our time in Strawhall. Hopefully she will produce another promising foal in the next few weeks that might follow in the footsteps of its big brother, Facile Vega.
We had some particularly interesting lectures this week including a covering induction in the breeding shed, learning the teasing procedures at the Irish National Stud, and a zoom lecture from Thoroughbred Data Analyst, Tom Wilson. In our covering induction we learned the ins and outs of what goes on when a mare comes to visit one of the I.N.S. stallions. We will all get the chance to work in the stallion yard during the breeding season and get a front row seat to all of the action. It was very interesting to learn about the importance of schedule and timing during the teasing lecture as well. We all had a go at filling out a teasing chart for the yard and got accustomed to using the different shapes and symbols on them.
Tom Wilson gave us an intriguing lecture as well, talking about how he uses analytics to come up with unique insights into where success stems from within the horse racing industry. He has had a lot of success using these analytical techniques in order to predict which horses might flourish whether they are on the track or in the breeding shed. He is also the founder of Racing Squared which is a startup company that uses the latest technology and machine learning in order to provide insights to clients at bloodstock sales.
Aoife
After working in Kildare yard Monday to Thursday, I had the opportunity to do night duty from Friday to Sunday in Sun Chariot, the foaling unit. I've had plenty of foaling experience from home, but I was very excited to see how the procedure was carried out on the stud. We did checks on all of the pregnant mares every 15 minutes to monitor them as they neared foaling.
Over the 3 nights, we were lucky enough to have 4 foals, with our first being born on Friday night at half 6. After the foal was born we monitored her to make sure she stood up and nursed within the first two hours of being born. Each morning, before our night duty ended, we sprayed each foal's navel to prevent infection and we took every mare and foal's temperatures to make sure everything was ok, before the students working on Sun Chariot started their work day.
HAVE A QUESTION?
Drop a Line
Address
Irish National Stud & Gardens,
Brallistown Little, Tully, Co. Kildare,
R51 KX25, Ireland
Keep up to date on our news and events
Contact Details
Tourism
Stud