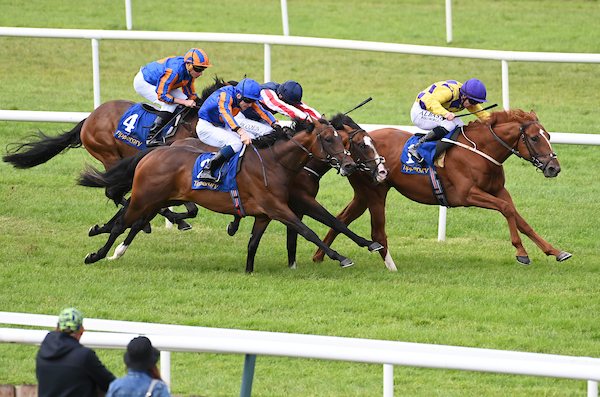 Spanish Flame, a two-year-old son of Phoenix of Spain, showcased his immense potential with a commanding victory at Tipperary. This colt's impressive performance suggests that he is a rising star to watch closely. Even after the race, it was evident that Spanish Flame had plenty left in the tank, as he took a fair amount of time to pull up. With his size, scope, and raw talent, it is highly likely that he will continue to progress through the ranks as the season unfolds. Having won two out of three starts, Spanish Flame is now eyeing the Group 3 Tyros Stakes as his next challenge.
Shane Lyons, assistant trainer to Ger, shared his enthusiasm for Spanish Flame, stating that Ger has an absolute fondness for this remarkable horse.  He exhibited signs of inexperience and lack of adaptability around the bends, yet it served as a valuable learning experience and a stepping stone towards the upcoming Tyros Stakes. Notably, Spanish Flame is an imposing figure, weighing over 500 kilograms. Lyons humorously added that while they have had horses of similar size in the past, they never turned out to be as impressive as Spanish Flame.
Phoenix of Spain, the esteemed sire of Spanish Flame, continues to produce remarkable progeny, boasting an impressive 42% winners to runners ratio. This further solidifies his reputation as a top stallion, passing down his exceptional qualities to his offspring. Spanish Flame's success is a testament to the strength of his lineage and the potential for greatness that lies within.
As the racing season progresses, all eyes will be on Spanish Flame as he aims to build upon his early victories. With his raw talent, size, and the guiding hand of Ger and his team, there is no doubt that this colt has the potential to make a lasting impact on the racing world. As the Tyros Stakes looms on the horizon, racing enthusiasts eagerly await the next chapter in Spanish Flame's promising career.
HAVE A QUESTION?
Drop a Line
Address
Irish National Stud & Gardens,
Brallistown Little, Tully, Co. Kildare,
R51 KX25, Ireland
Keep up to date on our news and events
Contact Details
Tourism
Stud