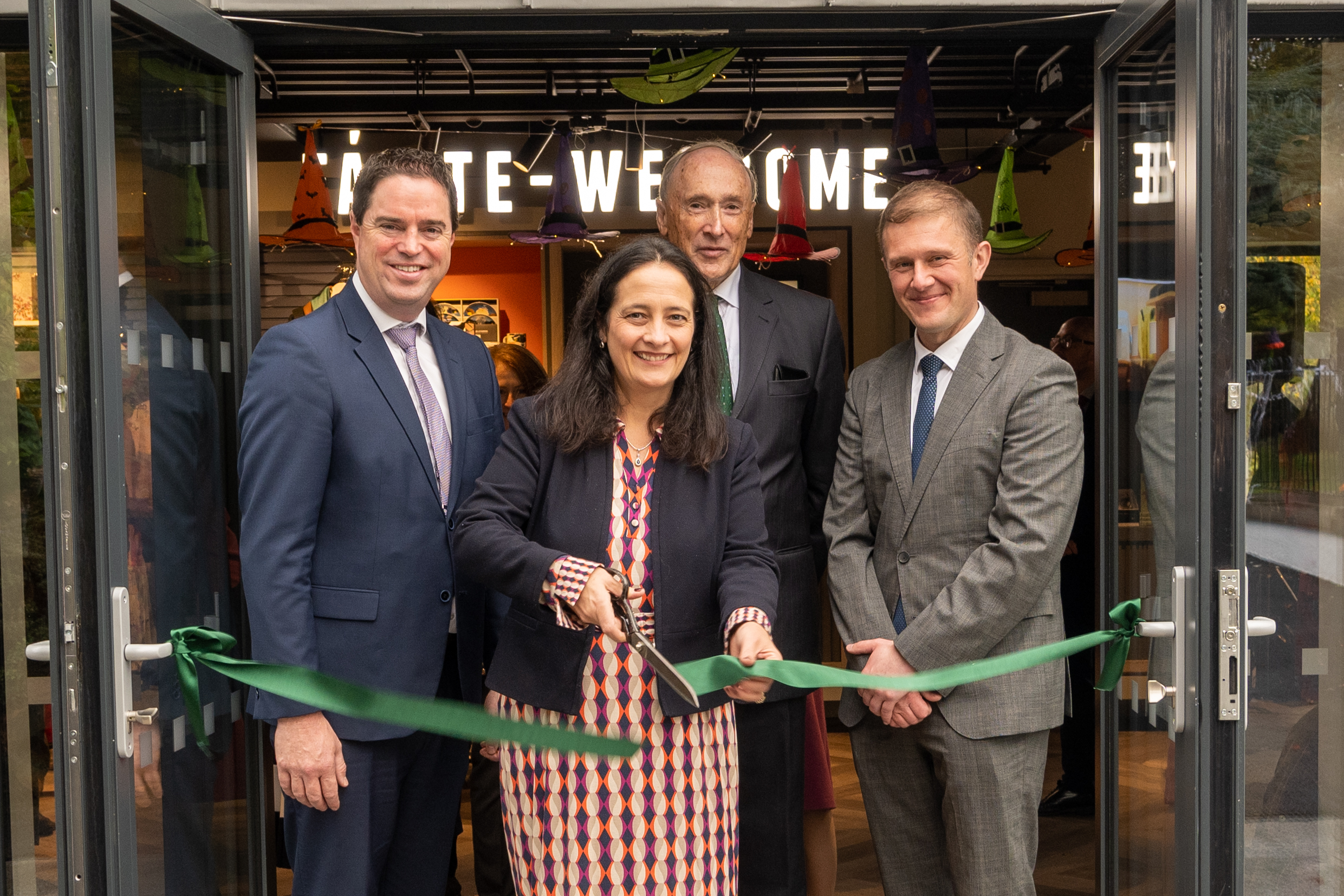 A newly designed visitor centre is now open in the heart of the thoroughbred country, the Irish National Stud & Gardens in County Kildare. The new visitor centre combines a beautifully designed admissions space and a unique experiential gift shop supplying locally and internationally sourced products to its over 140,000 visitors. Visitors to the new gift shop have an opportunity to purchase that special momentum of their visit to the attraction as well as find that unique gift for their friends and family. The gift shop showcases locally designed and developed products as well as offering a unique line of Irish National Stud & Gardens product including honey created by the stud's own bee apiary and a creatively designed children's range.
On October 27th the Minister for Tourism, Culture, Arts, Gaeltacht, Sport, and Media Catherine Martin opened the newly refurbished and designed visitor centre at the world-leading attraction.
"The Irish National Stud is an important cultural landmark within Ireland's Ancient East and one of many exceptional attractions for visitors to explore. I am delighted to visit the Irish National Stud to officially open this brand-new Visitor Centre and retail space. It is a pleasure to meet with many local artisans and designers whose produce is on sale."
The Minister was provided with a visit to the award-winning Irish Racehorse Experience. The €3.2m Irish Racehorse Experience which was part funded by Fáilte Ireland and combines cutting-edge gaming technology with live video, audio and graphics which offers visitors the chance to buy and train their own thoroughbred racehorse, culminating in a thrilling real-time race, guaranteed to set pulses racing. Visitors to the Irish Racehorse Experience can expect to be taken on a journey through the rich history and heritage of the Irish thoroughbred sector, which sees Ireland as a world leader in breeding, training and racing the best racehorses in the world.
The Irish thoroughbred industry employs nearly 30,000 people in Ireland and is worth almost €2bn to the Irish economy. In County Kildare, where more than one-third of its 75,000 acres is devoted to stud farms, horses are a passion and a way of life. Visiting the Irish National Stud & Gardens is a must for anyone wanting to get a feel for this culturally important and passionate part of Irish life.
Located in Ireland's Ancient East and within easy access of Dublin, the Irish National Stud and Gardens welcomes visitors from all over the world each year.  The founder of the stud, Colonel William Hall-Walker, bought the land in 1900 and believed that horses should be bred and raced according to their horoscopes. Stalls were built with skylights so that the stars could favourably influence his prospective winners. Since then, the stud has produced some of the best racehorses in Europe and today it is one of the top breeding farms in the world. It is also home to one of the finest Japanese Gardens in the world. Owned by the Irish people, the Irish National Stud & Gardens boasts over 400 acres of maintained walkways, as well as St Fiachra's Garden and a playground and fairy trail. Also, home to the Japanese Gardens restaurant offering home baked and locally sourced food.
HAVE A QUESTION?
Drop a Line
Address
Irish National Stud & Gardens,
Brallistown Little, Tully, Co. Kildare,
R51 KX25, Ireland
Keep up to date on our news and events
Contact Details
Tourism
Stud