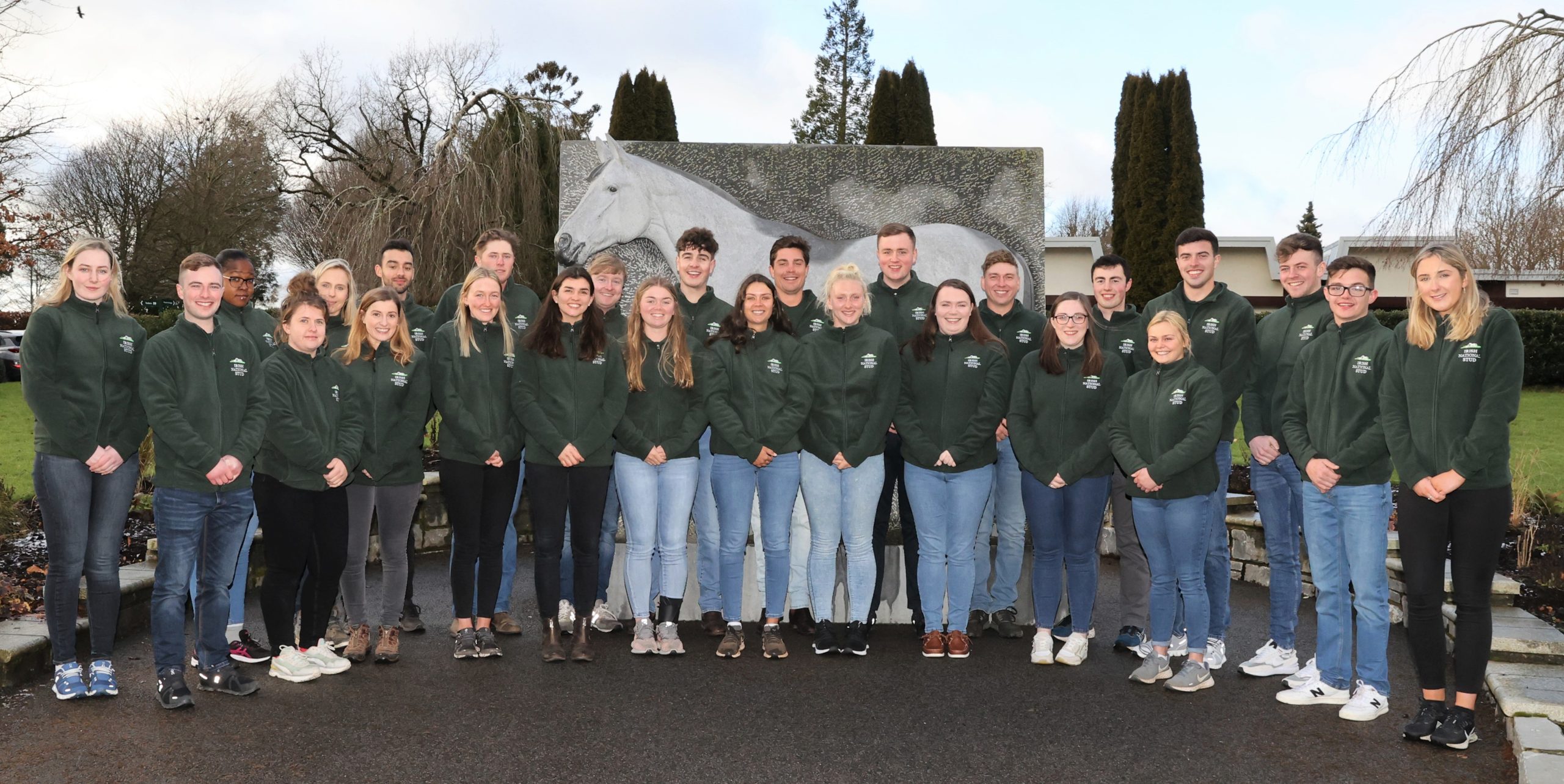 Applications are now open for the 2024 Irish National Stud Breeding Management Course and this week we caught up with Education Development Manager Anne Channon to find out a bit more about what the course entails.
What is a typical day on the course?
During the course students rotate around the various yards on the stud farm so that they can experience practical training on all aspects of thoroughbred breeding. Each morning the student arrives at their assigned yard, it could be Sun Chariot working in the foaling unit, Kildare yard looking after the mares and foals or in the Stallion unit where the students get to work with our impressive roster of stallions. Each day is different and immersive and students have the opportunity to learn from our staff, vets and farriers. In the evenings students attend lectures which are delivered by industry experts, topics include equine breeding, anatomy & physiology, equine business, pasture management, conformation, and pedigree analysis. Throughout the course students also get to partake in industry site visits to other stud farms, training yards and racecourses.
How many students are selected for the course each year?
Approximately 25 students are selected each year. There is very much an international element to the course as we have students attend from all over the world.
What do students enjoy most about the course?
Students really enjoy the practical aspect of the course as they get plenty of hands-on experience under the guidance of skilled staff. Every student enjoys the first time that they get to participate in a foaling and with over 350 foals in the season they get to participate in many foaling's. Students also like the friendships and bonds that they make with the rest of their classmates.
Is there an age limit?
Students must be at least 18 years of age to participate on the course. The average age of our students is 22- 26 years of age.
Do I need experience to apply?
It is recommended that applicants have prior equine experience.
What careers are available after the course and is the course accredited?
The course is accredited and is internationally recognised. There are lots of job opportunities available not only in Ireland but all over the world for our graduates. Some students go on to work or manage stud farms, train racehorses or work in nominations. Other graduates have gone onto work in bloodstock sales, racecourses, or media.
Where do the students live when they are on the course?
Students are accommodated in our student hostel which is located on the stud farm. All meals are provided by our catering team.
Are there extracurricular activities for students?
Yes, we arrange trips to race meetings, themed dinner nights, tag-rugby, quizzes and many more.
Are there any notable industry graduates?
There are some prolific names among our graduates such as Joe Osborne Managing Director of Godolphin, Henry Beeby Chief Executive of Goffs, Christy Grassick Manager Coolmore, Cathal Beale CEO Irish National Stud, Maxine O'Sullivan Cheltenham Festival Winning Jockey, Hugo Burnand Royal Photographer and many, many more.
Who do I contact if I need more information?
We are always available to provide further information on our course or to show you around our wonderful facility, contact Anne Channon [email protected]
How do I apply?
Applications must be completed via our website https://irishnationalstud.ie/thoroughbred-breeding-management/ and applications close on October 1st 2023
HAVE A QUESTION?
Drop a Line
Address
Irish National Stud & Gardens,
Brallistown Little, Tully, Co. Kildare,
R51 KX25, Ireland
Keep up to date on our news and events
Contact Details
Tourism
Stud