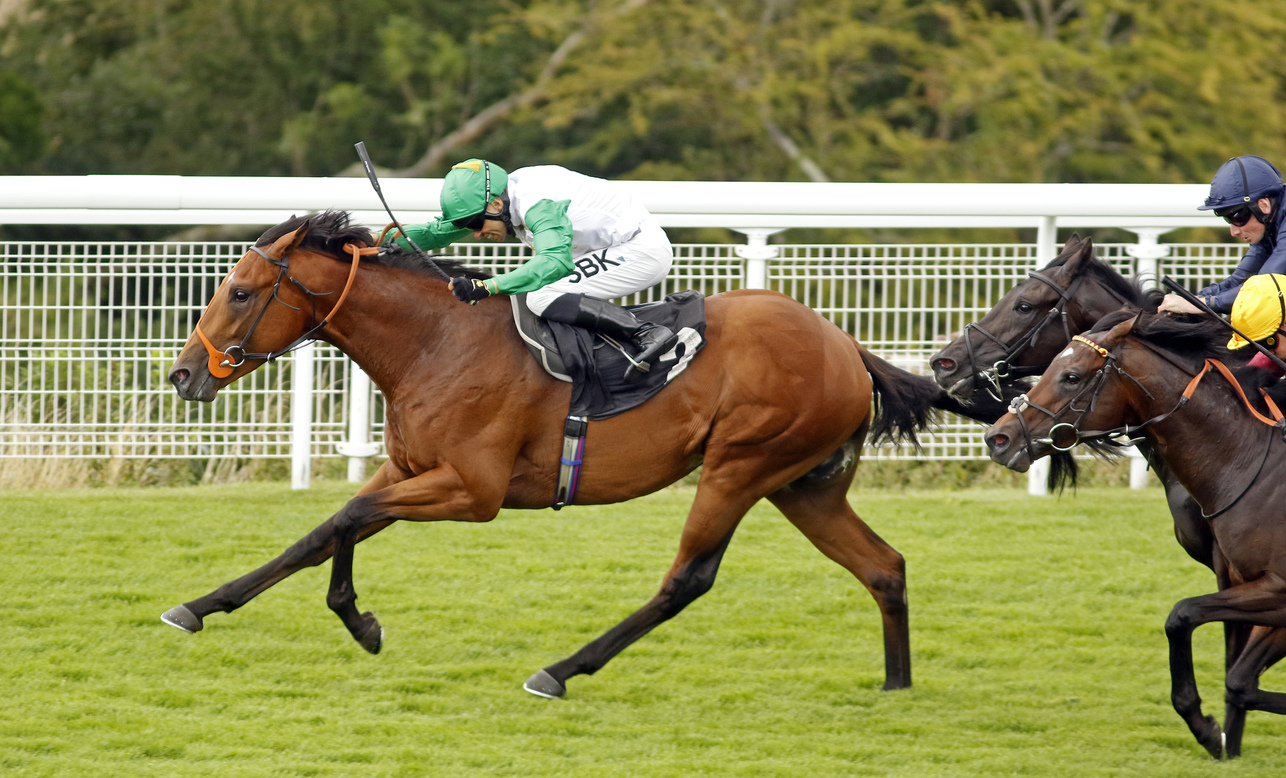 Goodwood's prestigious racing festival witnessed an electrifying showdown in the Group 2 Vintage Stakes, as Sheikh Abdullah Almalek Alsabah's Haatem claimed a resounding victory. The two-year-old colt, sired by Phoenix Of Spain, delivered an impressive performance, proving himself as a force to be reckoned with on the turf.
In a thrilling seven-furlong test, Haatem showcased remarkable determination, paying a handsome compliment to his conqueror in the Group 2 Superlative Stakes, City Of Troy (Justify). It was a momentous occasion for the young colt, marking his emergence as the first stakes winner for the promising freshman sire Phoenix Of Spain, who hails from the renowned lineage of Lope De Vega.
The credit for nurturing this rising star goes to trainer Richard Hannon, who celebrated his first win in the Vintage Stakes. Bred by Hyde Park Stud, the March-foaled bay has undoubtedly caught the attention of racing enthusiasts with his spectacular run.
Haatem entered the fray as the 9-4 favourite, and right from the start, he displayed the composure of a seasoned campaigner. Under the expert guidance of jockey Sean Levey, the colt found himself positioned strategically within reach of the leaders, lurking in a handy fifth position after a slick getaway.
As the race progressed, Haatem's smooth progress became evident, and as they entered the final straight, Levey unleashed the colt's full potential. Demonstrating tenacity and speed, Haatem surged forward, seizing control and leaving his competitors trailing behind.
Despite a valiant effort from the rest of the field, Haatem kept his focus and determination intact, crossing the finish line with a flourish of strength under Levey's drive.
In the aftermath of the enthralling triumph, trainer Richard Hannon expressed his delight, stating, "Haatem is a lovely horse, and he deserved that victory after showcasing his mettle in the Coventry and the Superlative. I am extremely pleased with his performance today. I had a feeling this could be his Derby, but I firmly believe he will continue to improve as the year unfolds."
The victory at Goodwood has propelled Haatem into the spotlight, raising hopes for a promising future. Hannon added, "He is not just a talented 2-year-old; he is big enough to be a contender next year as well. With the title of a Group 2 winner now, naturally, our sights will be set on Group 1 races. Haatem is growing and evolving with each race, and he has the potential to take on the best in the business."
Jockey Sean Levey was equally effusive in his praise for Haatem, commenting, "On paper, Haatem deserved this victory. Despite being a big horse, he has proven himself in every race and faced some exceptional opponents without securing a win. However, today, he stood out, and I would have been surprised if he had not won. There is plenty of scope for him to improve, and I have a feeling that stretching him to a mile might unlock even more of his potential."
With a winter of development and preparation ahead, Haatem's supporters eagerly anticipate his future performances on the racetrack. As he continues to grow and mature, there's no denying that Haatem holds the promise of becoming a true champion in the realm of horse racing.
HAVE A QUESTION?
Drop a Line
Address
Irish National Stud & Gardens,
Brallistown Little, Tully, Co. Kildare,
R51 KX25, Ireland
Keep up to date on our news and events
Contact Details
Tourism
Stud