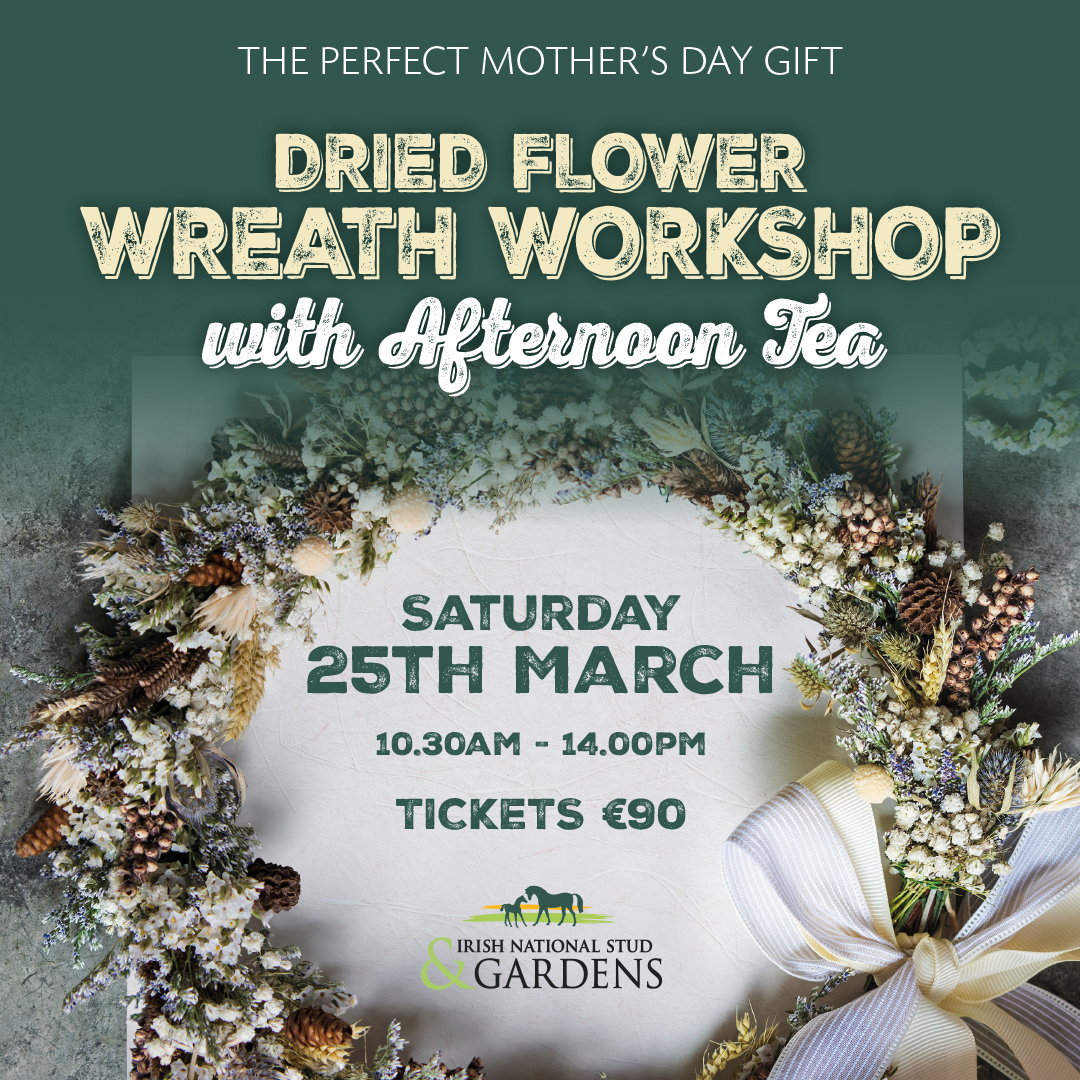 Mother's Day is the perfect occasion to show your love and appreciation to your mother with a thoughtful and luxurious gift. Here are five unique gift ideas that will make your mother feel extra special. All of these luxury gifts are available to purchase in the Irish National Stud & Gardens Gift Shop, open 9am-6pm Monday-Sunday. 
Dried Flower Wreath Workshop With Afternoon Tea
For a truly unique and hands-on gift, consider a Dried Flower Wreath Workshop. Led by an expert florist, this workshop teaches participants how to create their own beautiful wreath using a variety of dried flowers and foliage. Priced at €90, this experience is both fun and educational, making it a memorable gift for your mother. Tickets can be purchased HERE.
Julie Clarke Porcelain Storage Jar Natural Wax Candle
The Julie Clarke porcelain storage jar natural wax candle is a luxurious Irish-made product that features a delightful blend of orange blossom, wild lime and verbena. Housed in an elegant porcelain jar, this candle is perfect for creating a serene atmosphere in any room. Priced at €23.95, it is a thoughtful and affordable gift for your mother.
McNutt Collection Wool Throw
The McNutt Collection Wool Throw is a handcrafted piece woven in Co Donegal, Ireland. Made from high-quality lambswool, this throw features a beautiful Maude colour that complements any decor. Soft and cozy, it is perfect for snuggling up with a good book or enjoying a movie night. Priced at €75, it is a luxurious and timeless gift for your mother.
Bespoke Irish National Stud & Gardens Ladies Scarf
For the fashion-conscious mother, the Bespoke Irish National Stud & Gardens Ladies Scarf is a perfect gift. Made from 100% polyester, this scarf features a stunning print inspired by the Irish National Stud & Gardens. The elegant design and soft fabric make it a versatile accessory that can be worn with any outfit. Priced at €38, it is a chic and affordable gift that your mother will adore.
Pegasus Equestrian Jewellery
The Pegasus Equestrian Jewellery collection is a must-have for horse-loving mothers. The Horseshoe Heart Pendant at €70 and the Silver Stirrup Pendant at €55 are both beautifully crafted pieces that add a touch of elegance to any outfit. Silver plated and skillfully made, these pendants are exclusive to only a handful of stockists in Ireland.
Mother's Day Hamper 
The Irish National Stud Mother's Day Hamper contains a Julie Clarke Candle, Green Angel Hand Cream and a bespoke cosmetic bag. The Mother's Day Hamper Special is on sale at the reduced price of €50 down from €64.95 while stocks last. 
All of these luxury gifts are available to purchase in our store, open 9am-6pm Monday-Sunday. Make your mother's day unforgettable with these exquisite presents that she will treasure forever.
HAVE A QUESTION?
Drop a Line
Address
Irish National Stud & Gardens,
Brallistown Little, Tully, Co. Kildare,
R51 KX25, Ireland
Keep up to date on our news and events
Contact Details
Tourism
Stud