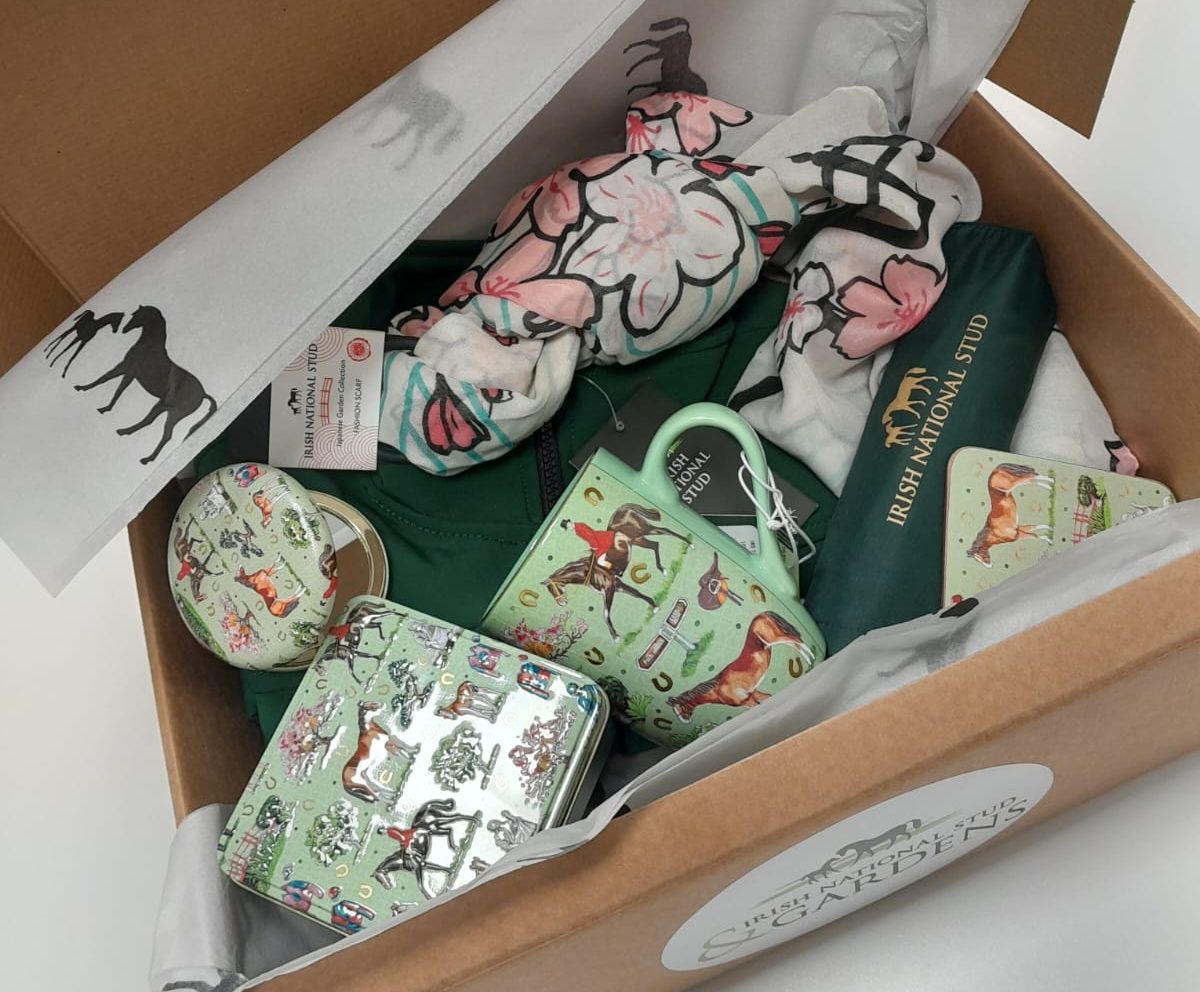 The holiday season is a time of joy, giving, and spreading warmth to our loved ones. What better way to celebrate Christmas than with thoughtfully curated hampers from the Irish National Stud & Gardens (INS)? This year, INS has prepared a delightful selection of hampers for every member of the family, making your Christmas shopping hassle-free and filled with love. Let's take a closer look at what's inside these beautiful hampers, sure to put a smile on your family's faces.
The Ladies INS Hamper – RRP €180 (Plus P&P)
Ladies, prepare to be spoiled with the INS Ladies Hamper. This beautifully packaged hamper includes a selection of stylish and practical items:
INS Sleeveless Softshell Gilet: Stay warm and fashionable with this versatile gilet.
INS Japanese Garden Collection 100% Polyester Scarf: Add a touch of elegance to your outfit with this exquisite scarf.
INS Umbrella: Stay dry in style with this INS umbrella.
Hall Walker Collection Coffee Mug & Coaster: Sip your favorite beverages in a mug inspired by the legendary Hall Walker.
INS Compact Mirror: Perfect for quick touch-ups on the go.
INS Keepsake Tin of Fudge: Satisfy your sweet tooth with this delectable treat.
The Ladies INS Hamper is the perfect gift for the special women in your life, offering both fashion and functionality. Size range XS – XXL.
The Gents Hamper – RRP €170 (Plus P&P)
For the gentlemen, the INS Gents Hamper is an excellent choice. Packed with essentials and a touch of sophistication, this hamper includes:
INS Softshell Jacket: Stay warm and stylish with this versatile jacket.
INS Umbrella: Shield yourself from the elements with an INS umbrella.
INS Baseball Cap: A classic addition to any wardrobe.
Horse Racing Terms Book: Delve into the world of horse racing with this informative book.
The Gents Hamper is ideal for those who appreciate a blend of practicality and elegance. Size range XS – XXL.
The Girls Hamper – RRP €130 (Plus P&P)
The young girls in your family will adore the Girls Hamper, packed with cute and comfortable items:
INS Kids Purple Sweatshirt: Keep warm and fashionable with this adorable sweatshirt.
INS Sleeveless Padded Gilet: Stylish and cozy, perfect for outdoor adventures.
Bespoke INS Filled Pencil Case: Stay organized in school with this customized pencil case.
INS Notebook & Ruler: Add a touch of INS magic to your studies.
The Girls Hamper is designed to make young girls feel special and stylish during the holiday season.
The Boys Hamper – RRP €130 (Plus P&P)
Boys can enjoy the festive spirit with the Boys Hamper, filled with practical and cool items:
Ash Grey Dark Horse Hoody: Stay cozy and stylish with this trendy hoody.
INS Quilted Gilet: Perfect for keeping warm during outdoor activities.
INS Filled Pencil Case & Ruler: Stay organized at school with this customized set.
INS Bespoke Notebook: Add a touch of personality to your notes.
The Boys Hamper is sure to delight the young adventurers in your family.
The Baby Hamper – RRP €80 (Plus P&P)
Even the tiniest members of your family can join in the holiday cheer with the Baby Hamper. This adorable selection includes:
INS Horse Baby Romper: Dress your little one in style.
INS Horse Baby Vest: Keep your baby snug and warm.
INS Horse Baby Hat, Mits, and Bib: Complete the ensemble for your precious bundle of joy.
The Baby Hamper is the perfect gift to welcome a new addition to the family this Christmas.
This Christmas, make your gift-giving memorable and heartfelt with these meticulously curated hampers from the Irish National Stud & Gardens. With options for ladies, gents, girls, boys, and even the newest family members, you can spread love and joy to everyone on your list. These hampers are not just gifts; they're tokens of your affection and appreciation. Make this holiday season truly special with INS hampers. Place your order today and celebrate a Christmas to remember!
For enquiries or to order contact: Sinead Kelly [email protected]
HAVE A QUESTION?
Drop a Line
Address
Irish National Stud & Gardens,
Brallistown Little, Tully, Co. Kildare,
R51 KX25, Ireland
Keep up to date on our news and events
Contact Details
Tourism
Stud