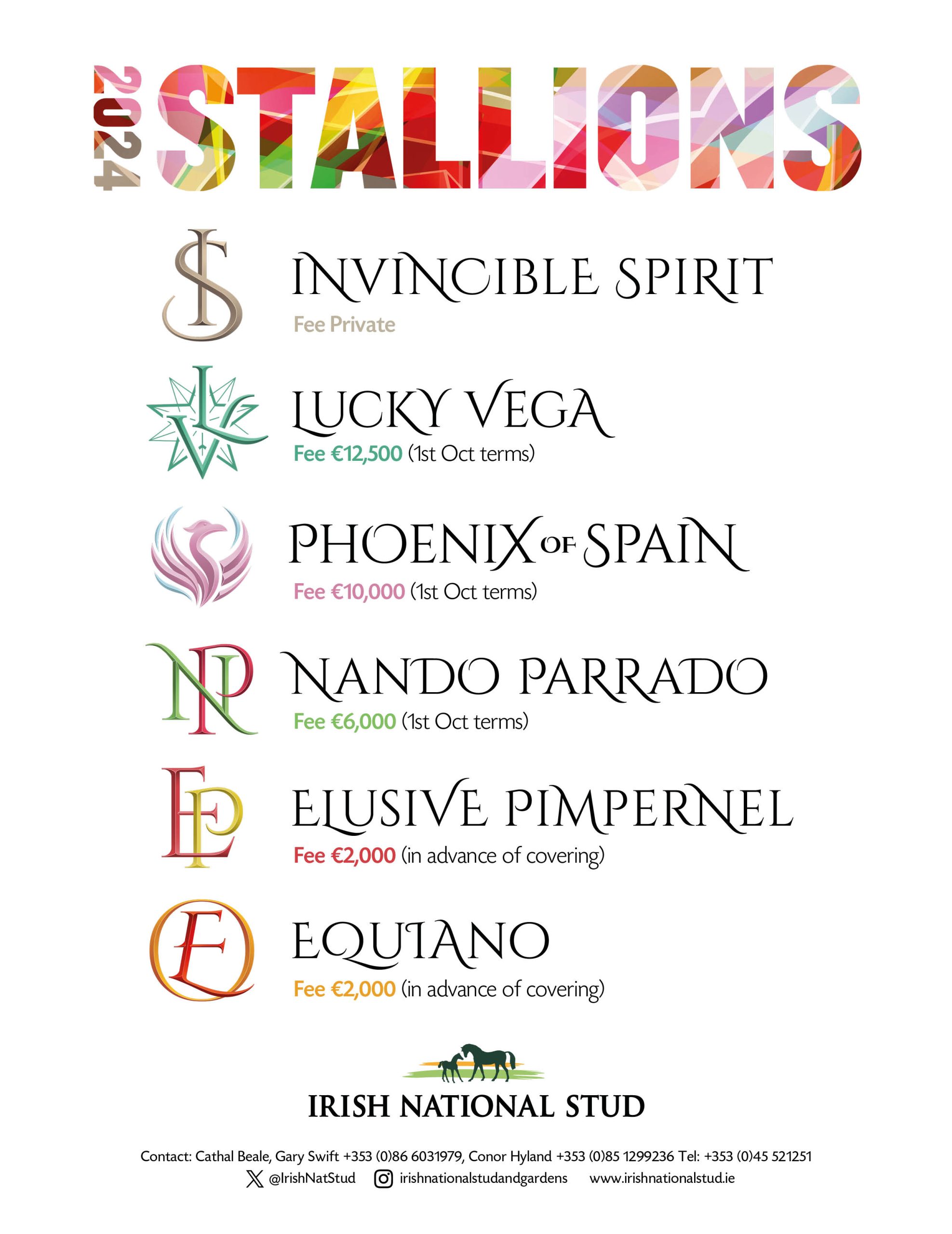 After a challenging yearling sales season, especially in the middle and lower tiers, the Irish National Stud is holding or reducing all of our stallion fees for 2024.
On the back of yet another stellar year, Invincible Spirit will once again headline the roster at a private fee. His yearlings sold for up to 520,000 guineas in 2023 and with 20 2yo winners at 47% winners to runners, he retains all his ability to sire precocious fast juveniles, including the unbeaten Group 2 Royal Lodge winner Ghostwriter. His 2023 Black type 2yo winners to runner's ratio of 4.7% is higher than Zarak, Kodiac, Night of Thunder, Lope De Vega and Kingman.
Lucky Vega covered 150 mares in his first crop with outstanding producers and proven performers throughout his book, making him a leading candidate to become champion first season sire.  His first foals are sure to make a splash at the upcoming sales and with a second crop of equal size and quality he has the ammunition to become an elite sire in the coming years. He will stand at €12,500.
Likewise, Nando Parrado will welcome his first crop of foals to market this year. On the back of over 130 mares in his first book he offers incredible commercial opportunity, especially to those that have followed Kodiac and his exceptional sons early in their careers before their steep ascent. He will remain at €6,000.
Equiano yet again provided an abundance of high-quality competitive runners at sprinter/miler distance led by Group 1 performer Equality and followed by 100+ rated runners Equilateral, Dakota Gold and Apollo One.  Along with Elusive Pimpernel, he is available at the rock bottom price of €2,000.
Then there is Phoenix of Spain, and the numbers speak for themselves. His 17 winners at 43% winners to runners is the best ratio among first crop sires standing in Britain in Ireland. His 3% group winners to runner's ratio is second only to Too Darn Hot in Britain and Ireland.  Among his best performers were Group 2 winner and Guineas entrant Haatem, the 100 rated Spanish Phoenix, Derby entrant Soul of Spain, Oaks entrant Alpheratz, multiple winners Miguel, Spanish Flame and Spanish Blaze and the impressive Dundalk scorer Orderofthephoenix. He will stand at €10,000.
Irish National Stud CEO Cathal Beale said, "there is no doubt that in challenging times we must be especially mindful of the bottom line for breeders and that's why we have chosen to drop or maintain all fees for 2024. Breeders need to be able to make a profit on their stock while giving their mares the best possible opportunity of producing a winner at stakes level. We believe they will find those qualities and that exceptional value throughout our roster."
HAVE A QUESTION?
Drop a Line
Address
Irish National Stud & Gardens,
Brallistown Little, Tully, Co. Kildare,
R51 KX25, Ireland
Keep up to date on our news and events
Contact Details
Tourism
Stud