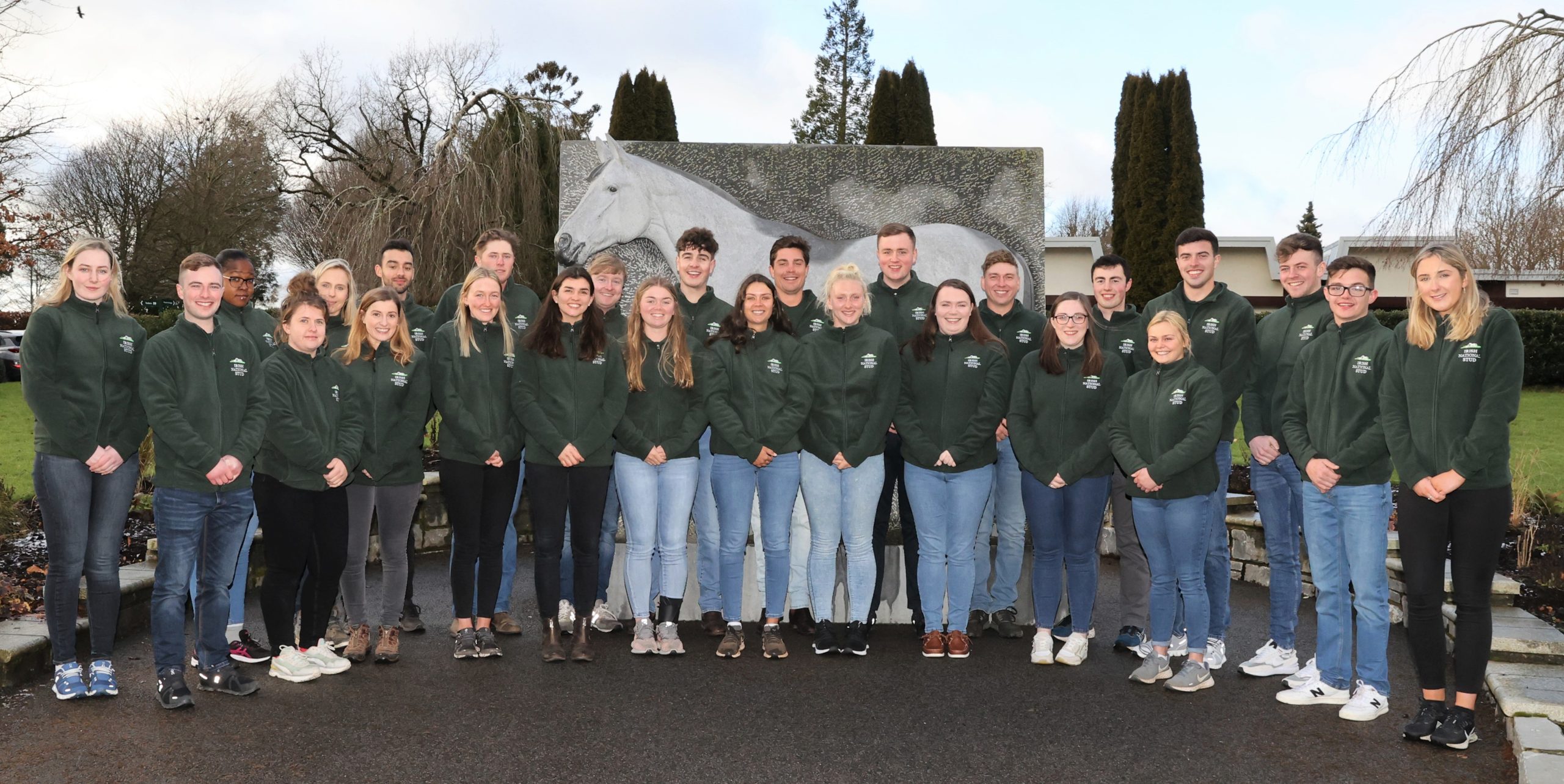 This week the Irish National Stud welcomed 27 students to Tully as they commence their placement on the world-renowned Thoroughbred Breeding Management course.
The class of 2023 comprises of students from eight countries including Ireland, United Kingdom, France, Germany, South Africa, Australia, New Zealand, and the United States of America.
Over the next six months the students will participate in a wide variety of activities, practical training and lectures which will provide a solid foundation for their progression in the Thoroughbred Industry.
According to Anne Channon, Education Manager "We are delighted to have the global group of students join us at the Irish National Stud and I look forward to a long and productive season with them. I am confident that they will use this opportunity wisely to develop their knowledge and to further their careers in the industry"
Front Row (L to R): Sean Berns (Ireland), Ailish Sinnott (Ireland), Faustine Otero-Chinot (France), Orla Queally (Ireland), Annelie Rodde (Germany), Alice Jeffries (New Zealand), Georgina Macintyre (Australia), Morgan Wilks (New Zealand), Darcie Murray (Ireland), Emma Hunter (Ireland),
Dayna Walsh (UK)
Back Row (L to R): Aoife Boland (Ireland), Hilda Ntlateng (South Africa), Julia Coenen (France),
Maël Thilbault (France), Lachlan Bruce (Australia), Thomas Connolly (Ireland),
Charles Shanahan (Ireland), William Macdonald (Australia), Scott Innes (Scotland),
Jarrod Robinson (Australia), Gerrard Donworth (Ireland), Brian Banahan (USA),
Ciaran Phelan (Ireland), Rory Woods (Ireland), Ciara Russell (Ireland)
Absent from Photo: Robert Acheson (Ireland)
HAVE A QUESTION?
Drop a Line
Address
Irish National Stud & Gardens,
Brallistown Little, Tully, Co. Kildare,
R51 KX25, Ireland
Keep up to date on our news and events